Top Trumps has been favourite card game for almost 50 years and is the UK's #1 card game. Check out their Star Wars games, perfect for celebrating Star Wars Day (May 4th 2022)
Star Wars The Mandalorian Top Trumps Limited Edition
The Disney+ smash has a Limited Editions Top Trumps pack, with all the great characters from the space-western in a glorious gold case. Is Bo-Katan stronger than Ahsoka Tano? Is Kuiil as resilient as Grogu and does Boba Fett have better technology than the Mandalorian himself? Grab this brand new pack and find out! This is the way!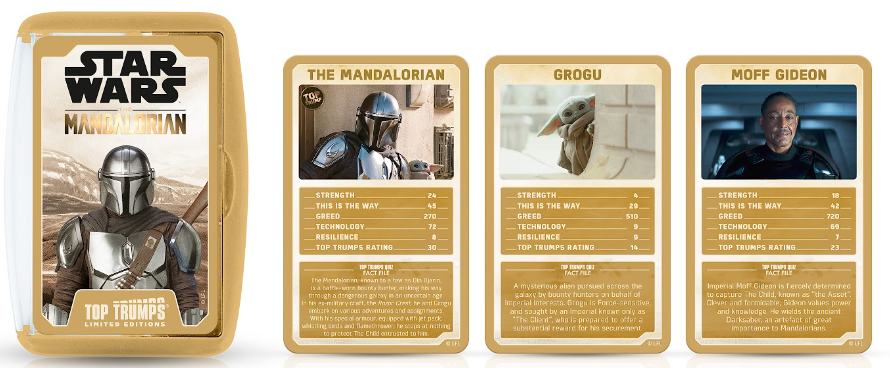 RRP £10
Available on Amazon
Star Wars Starships Top Trumps
Discover everything there is to know about some of the finest vessels in the galaxy with this exciting new edition of TOP TRUMPS: Star Wars Starships! Choose from classic and contemporary vessels from Episodes I through IX, like the Tantive IV, the Rebel X-Wing, the Imperial Star Destroyer and the Fulminatrix. With categories like speed, manoeuvring, shield and firepower With official, detailed images of each ship and custom bios which reveal each ship's story and significance, Sith and Jedi alike are guaranteed to find plenty to enjoy within this pack.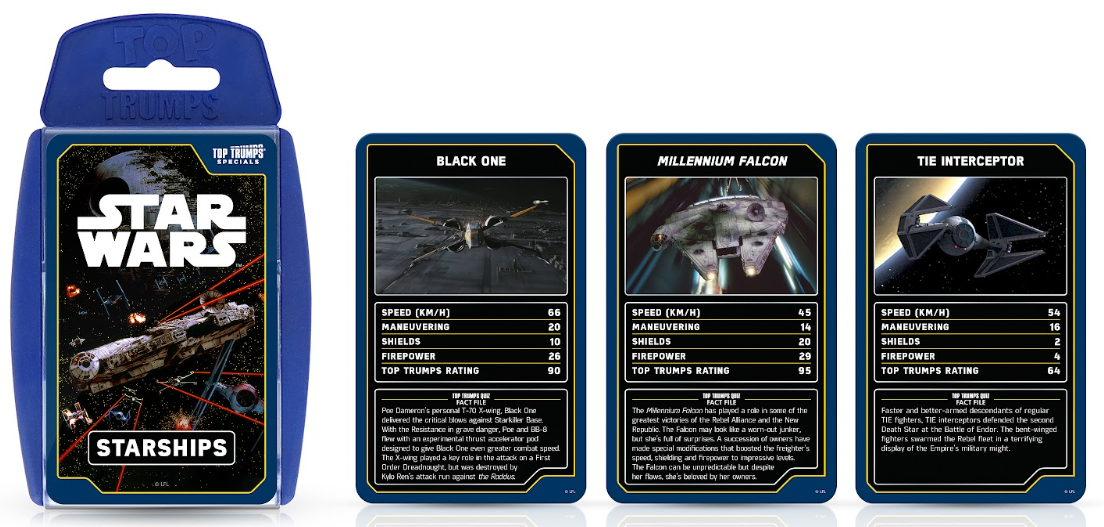 RRP £8
Available on Amazon
Star Wars Top Trumps Quiz – BRAND NEW!!
Top Trumps Quiz, Star Wars edition brings you 500 questions covering the entire Skywalker Saga, from The Phantom Menace through to Rise Of Skywalker. Think you know your Wedge Antilles from your Nien Nunb? Your X-Wing from your Dreadnought? Your Alderaan from your Canto Bight? Well, this is the trivia game for you. With glorious full colour imagery from the Star Wars saga and a cool twist, it's a must-have!

RRP £12.99
Available on Amazon
Star Wars Top Trumps Match
The Crazy Cube Game goes galactic with this brand new Star Wars edition of Top Trumps Match. Channel the Force, and be the first to line up five of your favourite Star Wars Skywalker Saga characters in a row. There are 15 characters to choose from, including heroes like Leia Organa, Chewbacca, Yoda, BB-8 and R2-D2, and the villainous Darth Vader himself. Take it in turns to knock out a cube and replace it with a new one. Only a true Jedi will be able to disrupt their opponent's line and complete their own at the same time. The all-in-one easy carry case makes the game simple to tidy away and play on the go.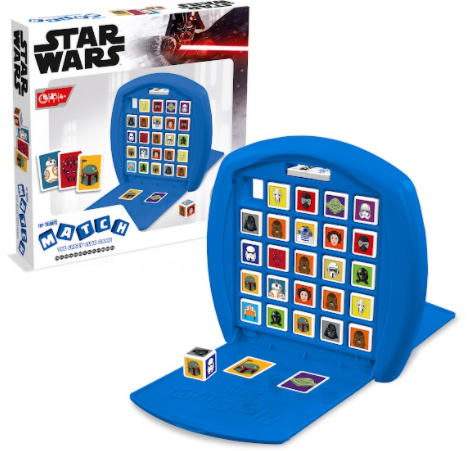 RRP £15.99
Available on Amazon